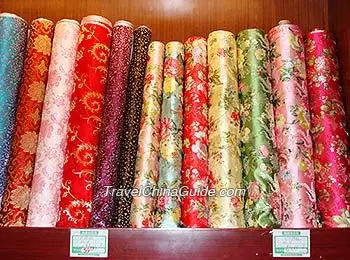 "A silkworm spins all its silk till its death and a candle won't stop its tears until it is fully burnt." This Tang poem accurately describes the property of the silkworm. Despite technological development, a silkworm can only produce a certain amount of silk---1000 meters (3280feet) in its lifespan of 28 days. The rarity of the raw material is the deciding factor of both the value and the mystery of silk.
Legend has it that in ancient times, Lei Zu, the wife of Huang Di , taught people how to raise silkworms and how to extract the silk.
The Warring States Period, the beginning of feudalist society in Chinese history, witnessed a prosperous time. The development of productivity popularized silk and it was no longer a luxury just for aristocrats. The pattern, weaving, embroidery and dyeing skills were all improved as they were influenced by the free ideology of the time, while the silk designs had sense of a free and bold air about them.
The silk products excavated from Mawangdui Han Tomb are proof of the advanced skill and artistry of silk at this time.
Silk production peaked during the Han Dynasty when the manufactured goods were transported as far away as Rome from Chang'an (today's Xian). The overland trade route was to become famously known as the Silk Road. However, there was also a Marine Silk Road extending from Xuwen, Guangdong or Hepu, Guangxi to Vietnam. An outward bound voyage lasting five months would arrive in Vietnam; it would take another four months to reach Thailand; while a further twenty days would carry the merchants on to Burma. Two months later they would arrive in India and Sri Lanka, from where the silk would be eventually transported to Rome via the Mediterranean. After such a long journey, the price of silk was equivalent to that of gold. Legendary as it seems, tender silk connected China to the rest of the world.
During subsequent dynasties, professional designers created novel patterns and improved the machines.
The Marine Silk Road took supremacy over the land Silk Road following the Song Dynasty extending the trade to Southeast Asia which became fully developed in the Yuan Dynasty. Besides Chinese exports, foreign businessmen also came to China to buy silk and china wares.
During the Ming and Qing Dynasties silk was transported to Europe and America from Manila and this meant that China dominated the world's silk market until 1908.
Chinese characters including the component "silk" have the intonation of silk or its implication of fine and deep. The richness of color, texture, strength and beauty of silk make it the means to imply something is fine and impeccable. A woman's raven hair is referred to as 'black silk' ; tender feelings are 'feelings of silk' and the Chinese word for a lingering and emotive feeling contains the component of "silk", and even a flavor can be silky and smooth.

Major local silk products of China
Shu Brocade
Shu Brocade made in Sichuan originated from Han and reached its heyday in the Wei, Jin, Sui and Tang Dynasties. With red as the predominate color, Shu Brocade has a variety of designs, fully reflecting the flowery nature of Shu Culture. In the Tang Dynasty, Dou Shilun, Duke Lingyang, created a set of designs for Shu Brocade, which was known as the "Duke Ling Yang Pattern".
Yun Brocade
Yun Brocade was developed during the Yuan Dynasty although its origin could date back to the Southern Dynasty. Historical records suggest that prior to the Southern Dynasty there was no brocade in Nanjing until Emperor Liu Yu (363-422) had workers move to Jiankang (today's Nanjing) and established production there. Yun Brocade features quality material, refined weaving and the wide use of gold and silver threads. This magnificence gained the name of Yun, which is Chinese for 'cloud'. Elegant Yun Brocade ultimately became a precious artwork and no longer a fabric for day to day wear. In the Yuan, Ming and Qing Dynasties Yun Brocade was a royal tribute.
As the unique weaving skill cannot be undertaken by modern machinery, Yun Brocade remains very expensive.
Song Brocade
Song Brocade, as the name implies, originated from the end of Northern Song. Record has it that a Mr. Ji used Song Brocade for the paperhanging of some precious calligraphy copies. In all there were twenty different designs of this brocade. When the Ji family declined, they wanted to sell the copies but failed to do so due to the high price they demanded. Later some rich man bought them and used the brocade as patterns in workshops in Wu (today's Suzhou area). He made a substantial profit from it! This is regarded as the origin of Song Brocade. And it inherits the old tradition---today Song Jin is mainly used for paperhanging.

Brocades by Ethnic Groups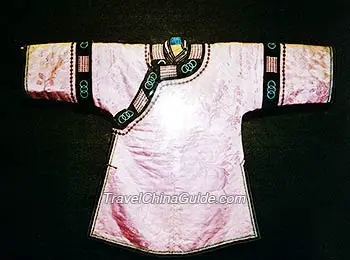 Zhuang Brocade
Zhuang Brocade is the creation of the Zhuang ethnic group in Guangxi. Zhuang Brocade features rich colors, as this is the artistry of Zhuang people. The patterns vary from waves, clouds, grass and flowers to animals. Phoenix, the symbol of auspiciousness, takes a dominant role in these designs. Zhuang Brocade is durable and can be widely used in beddings, belts, bags and clothes.
Dong Brocade
Dong Brocade from Hunan features softness and neatness.
Li Brocade
Li Brocade from Hainan is firm with bold primitive designs.
Tujia Brocade
Tujia Brocade from the west of Hunan and Hubei is known for its mass, variety of designs and gorgeous colors.
Yao Brocade
Yao Brocade from Hunan is notable, too. The Brocades for bedding are neat and light in color with simple designs while those for clothes are flowery. Some of the symbols woven into Yao Brocade are regarded as the legendary "female characters", which are limited among women. Women use these special symbols or characters to convey messages. Though there is no way of telling if the female character is a branch of an ancient oracle system or that of Yao words, Yao Brocade has become a medium of such a mystery.
Hang Brocade made in Hangzhou, Jing Brocade from Jiangling, Hubei, and Ning Silk from Nanjing, Jiang Silk form Zhenjiang, Jiangsu Province, Hu Crape from Huzhou, Zhejiang Province all occupy outstanding roles in the history of Chinese silk.